Newsletter
The veterinarians and staff at the Ace Animal Hospital are pleased to provide you with an online newsletter. This fun and fact-filled newsletter is updated on a regular basis.
Included in the newsletter are articles pertaining to pet care, information on our animal hospital, as well as news on the latest trends and discoveries in veterinary medicine.
Please enjoy the newsletter!
Current Newsletter Topics
Choosing the Right Cat
One reason cats are such popular pets is that they are extremely adaptable. Cats are self-sufficient and thrive just about anywhere people do with very little additional care. Nevertheless, a cat's age, sex and breed should be considered if you want the most suitable pet for your lifestyle.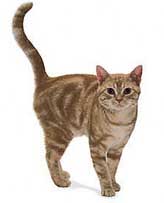 American Shorthair
A rural family with children running in and out of the house all day might be best suited for a sturdy, low maintenance American short-hair cat. A cat connoisseur might choose the unique look of the Ocicat, which, besides its spotted wild looking beauty, is known as one of the best companion cats. A long-haired cat or a high-strung, elegant Siamese might not be an ideal choice for an elderly person. The best companion for an older person or invalid might be an older, quiet cat who stays out from underfoot and is not too energetic. A Siamese cat, whose claws are sure to scratch expensive furniture, or a Persian, whose shedding might send a fastidious housekeeper into a broom swinging rage, might work well for an easygoing, young, childless couple.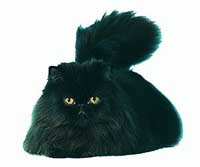 Persian
The local library and local book store are probably good locations for acquiring information about cats. Attending cat shows and speaking with cat owners are excellent ways for obtaining information about specific breeds and temperaments. This article alone may provide you with most of the information you need for selecting your feline companion. Any pet professional; however, is going to tell you the same thing. The more you are informed, the better you are going to be satisfied with your decision.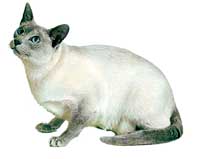 Siamese
Decide what type of cat you want (pet, breeder or show quality). If you cannot commit to the money or time, do not buy a show cat. If you are not going to breed your cat, it is not necessary to buy breeding stock.
Adult or Kitten
Both an adult cat and a kitten have their virtues. An adult cat is a ready-made companion. He (or she) is trained, self-sufficient, and ready to go. What's more, he may already be neutered and he knows how to take care of himself. When he's tired of playing, he may hide. If you need a mouser, he can probably learn the job within hours. Assuming he's healthy and comes from a good breeder or loving home, he should make an excellent pet.
On the other hand, adult cats are generally slower to adjust to new situations than are kittens. It may take some extra time and patience when introducing an older cat to other family pets. Until he adjusts, you may need to supervise and keep an eye on him so that he doesn't sneak out the door and try to return to his former home.
By starting out with an adult cat; however, you are going to miss the enjoyment as well as anguishes of living with a kitten.
Kittens are adorable, cuddly and amusing. Their nonsensical antics and youthful exuberance are a delight. Watching them learn and grow is unforgettable for all ages and an exciting experience for children.
Prepare to give your kitten lots of care during the first few weeks. You need to feed your young kitten several times a day and clean up after him. He may even need to sleep cuddled up next to you for a while. Kittens are constantly getting intro mischief, so put away your table top items until he's older. Finally, be prepared for a few trips to the veterinary hospital for exams, vaccinations, neutering and an occasional incident.
Pedigree Cats
If you plan to show or breed your cat and you are specific about what you want in looks and temperament, buy a pedigreed cat from a reputable breeder. A pure-bred cat can cost several hundred dollars; however, you are probably not going to mull over your investment in an exquisite, show quality feline.
If you definitely want a particular breed, but you don't need show quality and registration papers, you can probably purchase a "pet quality" kitten relatively inexpensively from a breeder. While color variations or other minor faults may make the animal unacceptable for breeding or showing, they usually don't affect his potential for becoming a wonderful pet.
Long-Haired or Short-Haired Cats
A short-haired cat requires less maintenance than a cat with long hair. If you are considering a long-haired cat, your tolerance for hair on carpets, furniture and clothing is a major factor to consider. Allergies are another factor to consider as long-haired cats may aggravate allergies more than short-haired cats. If you decide on a long-haired cat and want to keep him healthy, daily grooming is necessary. Regular brushing, and an occasional dose of a veterinary-approved cat laxative, should keep him free from hairballs. Both long-haired and short-haired cats should get a nail trim from time to time.
Male or Female
Males cats are generally larger than female cats. Neutered males normally don't spray and are mellower than non-neutered male cats because they are not driven by their hormones. Altered cats are more docile than non-neutered cats. Unless cat breeding is your goal, sex makes little difference in your choice. Spayed females do not produce generation after generation of unwanted kittens.
Animal Assisted Therapy
"People who don't respond to anything else often respond to the animals. Animal Assisted Therapy visits uncover avenues of communication that didn't exist before...As a result, (patients) feel more relaxed in their environment and, ultimately, are more likely to be open to rehabilitation and therapy," says Vicki Olivas, coordinator of Activities, Therapy, and Volunteer Services, California Pacific Medical Center.
WHAT IS ANIMAL ASSISTED THERAPY?
Animal Assisted Therapy is a program that brings the healing presence of animals to people in health care facilities and nursing homes. Volunteers often bring shelter animals or their own pets on visits to hospital wards, nursing homes, psychiatric clinics, senior centers, and special schools.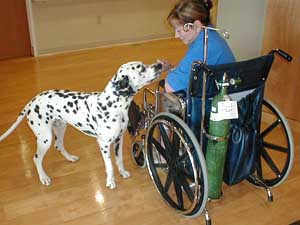 Animals Provide Therapeutic Benefits
The loving, nonjudgmental presence of animals creates a cozy, homelike setting in the institutional environment. And where humans sometimes fail, animals are often successful in cutting through the barriers that isolate people with physical and emotional difficulties.
Medical studies and field reports show animals have a comforting, reassuring effect on people. The therapeutic benefits of animal assisted therapy include:
Decreased anxiety and depression in patients.
Increased self-esteem.
Stronger desire to communicate.
Lowered blood pressure.
Increased motivation to get well.
Decreased need for painkilling medication in some post-operative patients.
Increased willingness to interact with other patients and/or hospital staff.
Most local animal assisted therapy programs visit the following (but not limited to) locations:
Children in pediatric wards.
AIDS patients.
Adults in acute care and physical rehabilitation facilities.
Children with behavioral and physical disabilities.
Hospices.
Mental health patients.
Frail and well elders in retirement communities and convalescent homes.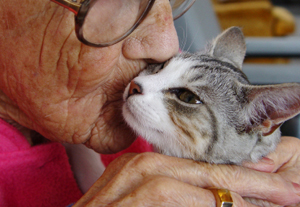 Animals Provide Emotional Support
THE ANIMALS
Dogs, cats, rabbits, guinea pigs, snakes, even turtles, make the rounds of participating AAT facilities. Each animal chosen for the program receives extensive medical and socialization testing before going out on visits.
About half of the animals used in programs are the pets of AAT volunteers. Dogs owned by volunteers are usually given a rigorous temperament test to make sure they get along well with people and respond favorably when placed in unfamiliar environments and situations. These animals also undergo comprehensive medical screening to ensure their good health.
If you are interested in participating in your local Animal Assisted Therapy Program, or if you have a pet that that meets their qualifications, please call your local animal shelter. Your local animal shelter most likely has the name and phone number of the person that heads the AAT program in your area.
Pet Pain Relievers Are Dramatically Improved
The introduction of pain relieving medications for dogs has improved the lives of millions of dogs in the United States and across the globe. Some pet owners are concerned about Internet rumors of severe side effects and have chosen not to give these medications to their pets. Are these drugs safe or are we putting our dogs at risk? New research and experience trials are giving us the answers. Watch this video to learn more.
Congress Considers Exotic Pet Ban
Not all pets are cute and cuddly and sit in your lap, but pet owners love them just the same. Snakes, iguanas, birds, hamsters, fish and others are all popular pet choices, even though they can't go for a walk in the park or come when you call. However, exotic pets may soon be scarce in the United States if Congress passes a proposed piece of legislation that would prevent "non-native" species from coming in to the U.S. and ban the sale, breeding and transporting of exotic pets in the country.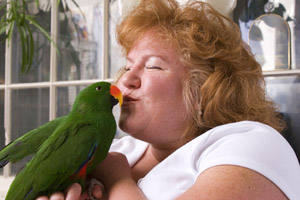 Many species of birds are considered non-native and will be affected by HR 669.
The bill, HR 669, is called the "Nonnative Wildlife Invasion Protection Act." According to the text of the bill, its aim is to "prevent the introduction and establishment of nonnative wildlife species that negatively impact the economy, environment, or other animal species' or human health, and for other purposes." The overall goal of the bill is noble enough: stopping irresponsible pet owners from keeping dangerous pets and preventing non-native species from taking over local ecosystems. However, the language of the bill is vague, and this means that traditional pets like hamsters, aquarium fish, most species of birds, and reptiles could potentially be banned under the bill. As part of the bill, substantial scientific proof would have to be provided before a non-native animal could be imported into the U.S., bred or transported across state lines.
Under the current laws in place, the U.S. Fish and Wildlife Service must demonstrate that a species can cause harm to humans, local ecosystems and the welfare of other wildlife resources in the U.S. If HR 669 is passed, the Fish and Wildlife Service would be required to create two lists - an "approved list," for species judged as harmless, and an "unapproved list," for species judged harmful. When examining the potential "negative impact" a species might pose, HR 669 judges the animal in the context of the whole country. For instance, a reptile species that might negatively impact the local ecosystem in southern Florida but nowhere else would nonetheless be banned throughout the country. Cats, dogs, farm animals and some rabbits are included in the list of species grandfathered in under the provisions of the bill. Other species would be required to undergo a rigorous screening process in order to prove they could not potentially have any sort of negative impact on their surroundings. Pet owners already caring for exotic pets would not have to give up their pets; however, the pets could not be sold or transported across state lines.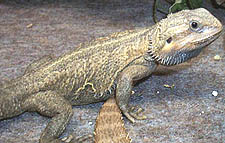 Pets such as dragons and iguanas could be banned under HR 669.
If passed, the bill will have a far-reaching impact on pet owners, breeders, veterinarians, pet supply retailers, and a number of other groups, including the New England Aquarium. Already, pet owners, have started to band together in opposition to HR 669. The website http://nohr669.com declared April 20 as "National NO HR 669 Call-In Day" and encouraged all animal lovers to call their Congressperson and declare opposition to the bill. The Pet Industry Joint Advisory Council (PIJAC), a trade organization comprised of retailers, distributors, manufacturers, hobby groups and other animal-related businesses, has also mounted a strong opposition to HR 669.
How HR 669 will fare in Congress remains to be seen. The bill is under review by the House Natural Resources Subcommittee on Insular Affairs, Oceans and Wildlife and a hearing is scheduled to take place on Thursday, April 23. You can track the progress of the bill by clicking here.
Clipping Your Pet's Nails
Pet owners vary in their level of comfort in clipping the nails of their dog, cat, rabbit or bird. But it is necessary to regularly clip nails to help maintain health and comfort. Nails which are uncared for can break or tear and can affect the animal's ability to move about comfortably or cause the animal to injure itself when scratching. If you are uncomfortable clipping the animal's nails yourself, your vet or groomer can do this for you. If you decide to do it yourself, here are a few tips:
Remember, the nail is living tissue. Do not clip too close to the quick. If this occurs, the animal will experience pain and the nail will bleed.



Clipping Nail Below the Quick (The quick is the pink area.)




There are two types of nail clippers available: the scissor type (which resembles a traditional scissors) or the guillotine type (which surrounds the whole nail). Both are effective. Choose the one that is most comfortable for you and your pet.
Many animals resist nail clipping. One way to get them accustomed to it is to handle their paws or feet from a very early age.
Mysterious Bond Between Humans and Dogs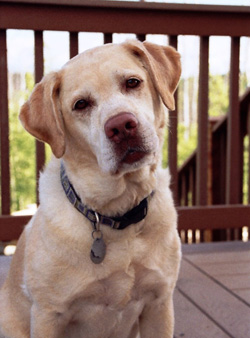 Dogs and their owners share a bond that is unrivaled in the animal world. Not even our closest genetic relative, the chimpanzee, can understand our gestures, facial expressions and language like a domesticated dog can. This curious relationship is the subject of new research that is leading scientists to surprising discoveries in areas of species development, the strange consequences of domestication, and the evolution of human culture.
Dogs and wolves are the same genus, sharing 99.8 percent of their genetic makeup. They can mate and produce fertile offspring. But in some ways, dogs and wolves are very different. Dogs cannot be taught to socialize in packs, and can never reintegrate into an established wolf pack. They just don't get it. Wolves, on the other hand, don't communicate or bond with humans, even when raised the same way as dog puppies.
In a recent experiment at Eötvös Loránd University in Hungary, wolf pups were raised exactly as dog puppies. By eight weeks of age, differences began to emerge. The wolves were not interested in human activities and were not especially anxious to please their human owners. By four months of age, the wolves were so "undomesticated" that they had to be returned to the wolf sanctuary.
Why can't wolves bond with humans? In spite of being so similar to dogs genetically, they don't seem to have the communication skills that dogs have.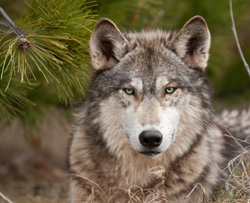 It's this curious ability of domesticated dogs to communicate with humans, to understand our emotions and our gestures that has made our relationship with dogs so special. Archeologists once believed that wolves became domesticated around 12,000 years ago. Newer research, based on genetics, not bones, has suggested a time period closer to 100,000 years ago. In these 100,000 years, something happened to make a dog less of a wolf.
On a farm in Siberia, Soviet scientists may have discovered the answer. Fifty years ago, they set up an experiment to domesticate silver foxes. The project has been teaching scientists a great deal about the process of domestication. By selectively breeding only the least aggressive foxes, researchers succeeded in eight generations, to create "pet" foxes.
The pet foxes are friendly, trainable, affectionate and obedient. Although they are genetically identical to aggressive wild foxes, the new generations are beginning to show physical as well as behavioral changes. Blood tests show lower levels of adrenaline. Their ears are floppier, legs are shorter, and their tails are curlier. In short, they are beginning to look like dogs.
Could this be what happened to the wolves that joined humans in their hunting camps 100,000 years ago? Humans and wolves were group hunters who were active during the daylight, strange among wild carnivores. Hunting together must have given them an advantage. The intervening generations of domestication have changed dogs in a fundamental way.
Dogs that were able to read emotion in human faces would be naturally selected for survival. Knowing when to be frightened and when to follow was certainly an advantage to primitive dogs. Today, after so many generations of co-dependence and co-habitation, dogs and humans communicate. Dogs read human faces, learn words, and follow gestures such as pointing. Chimpanzees can learn words, but cannot be trained to follow a gesture or read a human emotion in a facial expression. Dogs know these things instinctively. Humans, too, understand. Experiments show that we understand dog barks surprisingly well.
Domestication of the wolf has provided humans with a faithful companion – the dog. This faithful companion protects us, sympathizes with our emotions, and obeys our commands. It makes one wonder: What will dogs be like in another 100,000 years?